Dec 5, 2019
Canon EOS M200: Top Features for the Fashion Blogger on the Move
With its stunning image quality and impressive performance, the Canon EOS M200 is a great everyday carry for your content creation needs, in a slim and lightweight package. Whether you're photographing your OOTD for your fashion blog, or getting some detailed jewelry shots for your lookbook page, the M200 can provide you the images you are looking for, above and beyond what your typical smartphone can offer. Let's look at some of the features in the M200 that can improve your images and help you grow your audience!
Focus, Focus, Focus
As a content creator, you are always on the move, and sometimes, so are your subjects. Autofocus speed is so crucial when trying to capture that perfect moment, that perfect pose. Dual Pixel CMOS AF in the M200 can help you do just that. With high-speed AF, and large coverage over the width of the sensor, you can ensure that sharp focus is exactly where you want it, giving you the freedom to be creative. With compatible lenses, AF coverage is approximately 100% of the sensor height and approximately 88% of the sensor width. Create away!
It's All in the Eyes
Speaking of fast and accurate autofocus, the M200 features Eye Detection AF, with support in Servo AF and Movie AF! In Servo and Movie AF, once the camera locks onto the subject's eyes, it will continually track and focus on the closest eye to the lens, even when the subject is moving around. This will ensure that you are capturing the natural expressions of your subjects with speed and precision.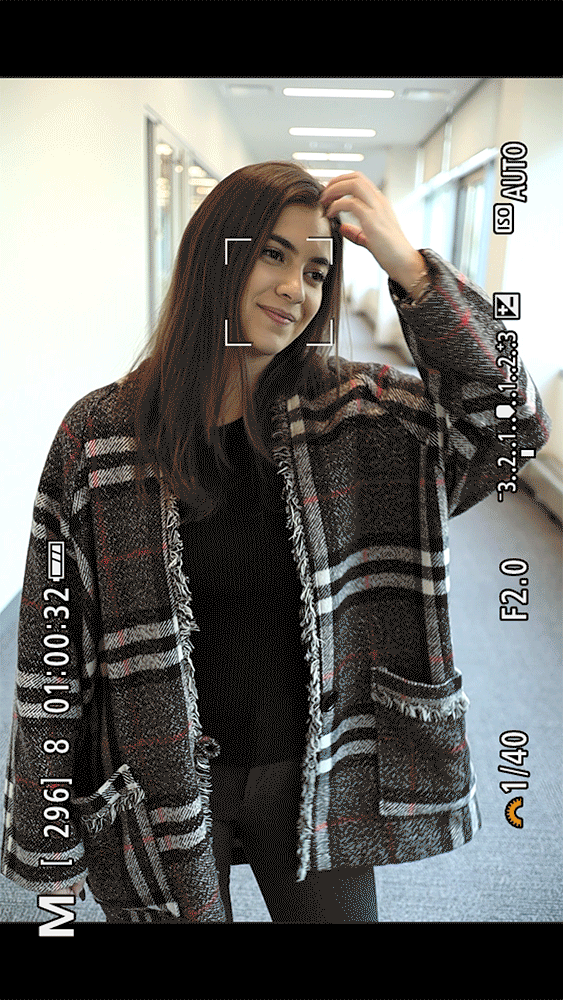 Don't Forget the Details
Seeing a full outfit come together is great, but don't forget about the details. You know, that piece of jewelry that just ties everything together so elegantly, or the small minute details in your clothing that make the whole outfit that much more interesting. These are the types of images that can really elevate your game. The versatility of an interchangeable lens camera like the M200 can help you achieve these types of shots. Pair it with a dedicated macro lens like the EF-M 28mm f/3.5 macro IS STM to get in close on those smaller details. Then swap on a telephoto zoom like the EF-M 55-200mm f/4.5-6.3 IS STM to give your model some space while still being able to hone in on different parts of the outfit from afar.
Crop to Your Heart's Content
Another way to hone in on the details is to crop your photos. Sometimes, simply cropping in and changing the composition of a photo can completely transform it and take a photo from good to great. There are also times when the location you are photographing in isn't the most ideal. Cropping your photo can help with getting rid of unwanted elements in the background. With approximately 24.1 megapixels to work with in the M200, you have plenty of room to crop your images while still maintaining a high level of image quality, not typically found in today's smartphones.
Look Ma, No Wires!
With wireless connectivity in the M200, transferring your images is really easy! With the free Canon Camera Connect app, you can either manually select your images in the camera and have them sent to your compatible smartphone or tablet, or set up automatic transferring to have the images automatically sent to your device AS you're taking them! This feature will drastically improve your workflow, allowing you to upload to your social media platforms with speed and ease!
Quick Edits on the Go
Need to make quick edits on the go? With the M200's Creative Assist and Creative Filters, adjustments can be done quickly and easily. With Creative Assist, settings such as brightness or saturation can be tweaked with ease. Want to add more fun to your photos? Try the Creative Filters! Effects like Grainy Film, Watercolor, Fish-eye, Miniature, Toy Camera, and more can be applied with just a few clicks. Both Creative Assist and Creative Filters can be applied during shooting, as well as during image playback.
Creative Filter: Grainy B/W applied
Summary
Life as a content creator can be fast paced, with photo opportunities at every turn. The EOS M200 can keep up with your needs, and is ready for anything you throw at it. Whether you're photographing on the go, or in the comfort of your own home studio, this compact, versatile camera has all the features you'll need to create stunning images for your social platforms.
GET SUPPORT
Need help with your product? Let us help you find what you need.
Product Support
NEED IT FIRST
Sign up for up-to-the-minute Canon News, Sales and Deals.
LEARN WITH CANON
Discover great new ways to enjoy your products with exclusive articles, training and events.
Learn more